It was a clash of the titans, and one that caught the imagination of the boxing public. Deontay Wilder, the loud, brash great American heavyweight hope ran the gauntlet and flattened Luis Ortiz to complete it!
Last weekend fight fans were treated to a second exhilarating heavyweight clash in as many years as Wilder confounded critics and set up a stratospheric collision course with British unified champion Anthony Joshua.
Alabama native Wilder, 40-0 (39kos), has so far failed to capture the imagination of the American people. A consequence of poor management and promotion maybe, but he is at the very top rung of the ladder with just 1 man in his way to make it his own.
Londoner Anthony Joshua is seen as the rule of the division. A towering hulk of a man, he battled against former King Wladimir Klitskcho last year, conquering his Ukrainian foe in a back and forth battle that saw him taste the canvas for the first time in his career.
This propelled Joshua to UK superstardom. A man of the people, well mannered, and the perfect figurehead for the worlds leading sports brands.
In a fight that followed a very familiar pattern, Deontay Wilder stuck a proverbial middle finger up to his many doubters. A glorified slugger without a genuine contender on his resume! Luis Ortiz was a legitimate threat to Deontay's rise. At one stage, after being on the canvas once himself, Ortiz had his man in real trouble. One clean punch may have put Wilder down and out but it never came.
An aging Ortiz had spent up his reserves, Wilder composed himself, and then unleashed hell. Completing his 39th knockout vicory in 40 fights, the slugger mentality has worked well over any kind of textbook boxing style.
It's to Wilders credit that he takes the decision of fights away from the judges. As in this fight, Ortiz had been outboxing him and to the many viewers watching, seemed to be ahead in the score.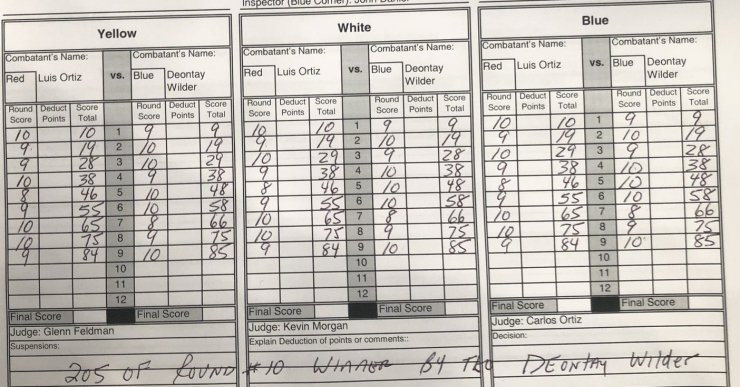 Official fight scores: All 3 judges scored 85-84 for Wilder.
A post-fight look at the scorecards however tells another story. All 3 judges had Wilder winning the contest 85-84 after 9 rounds, which was met with scorn from fight fans on social media.
It is just another incident, in a long line of many, which fuels the need for change, a change that Fight-Score provides in the we determine and explain our scorecards.
HOW did the judges get their scores as they did? WHY did they award the rounds that way?
Fight-Score answers these questions, simply by the requirement of adding a reason to explain the round scores. It's that simple!
It won't stop bad scorecards being produced by ringside judges, but it will at least get some answers for fight fans from the judges who are otherwise unquestioned and don't have to justify their decisions.